Our company is growing, and so is our drive to help people in need across the communities that supported us at every step.
Through investments of time, finances, and opportunity, Index is giving back. We're partnering with future-focused organizations. And the work we started with high-impact initiatives in Baltimore is expanding — to advance philanthropy everywhere Indexers work, nationwide.
How Indexers support the community
BALTIMORE CITY SCHOOLS PARTNERSHIP
Our newest philanthropic effort is an educational investment in the city where Index was founded. We will be providing financial support to Baltimore City students, teachers, parents, and administrators — while helping make grade-specific parent guides a reality. Meanwhile, Indexers will volunteer to mentor students, assist in classrooms and more. It's all part of a long-term partnership recognizing and celebrating the hard work of city school staff!
INDEX ANALYTICS SCHOLARSHIPS FOR HIGHER EDUCATION PROGRAM
In 2022, Index created a scholarship to support Baltimore County high school seniors interested in continuing their study of Science, Technology, Engineering, and Math (STEM) at a two- or four-year college/university, or technical school.
Index will award $2,000 scholarships to two students from Woodlawn High School — right down the road from our headquarters.
In addition, we will award $250 towards books and technology resources to ten Baltimore County high school seniors who are planning to attend any Historically Black College and University (HBCU).
MIDDLE AND HIGH SCHOOL SUMMER BRIDGE TRANSITION PROGRAM
We're proud to have given $10,000 to two nearby Title I schools — Woodlawn Middle School and Woodlawn High School — to support the expansion of their summer bridge transition programs.
These programs help students transition into 6th and 9th grades, building their sense of community as students enter a new school environment.
Given the social, emotional, and academic impact of the recent pandemic on Baltimore County students, there was no better time to invest in community support.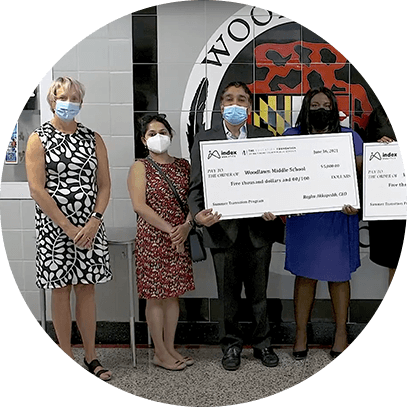 POWERING UP LOCAL SCHOOLS
In 2018, we established a charitable program to support innovative STEM programs in Title I schools — including our first grant for an elementary school's solar-powered drip irrigation initiative.
In 2019, Indexers began our partnership with the Baltimore-city based nonprofit Code in the Schools (CITS). We donate financial resources and Indexers volunteer time towards computer science instruction, resources, and mentorship for Baltimore school students.
MARYLAND FOOD BANK HOLIDAY GIVING PROGRAM
Each year, Indexers help meet urgent community needs through this incredible program. With employee-matching donations of up to $9,000, Index regularly supports the efforts of the Maryland food bank.
ATHLETES SERVING ATHLETES
Index was proud to sponsor a team for ASA's annual Runfest 5K fundraiser — and to see our own Allyn Finegold serving on the organization's Board of Directors.
Athletes Serving Athletes is a Baltimore-based nonprofit that elevates the quality of life for individuals with limited mobility by empowering them to train for and participate in mainstream running events.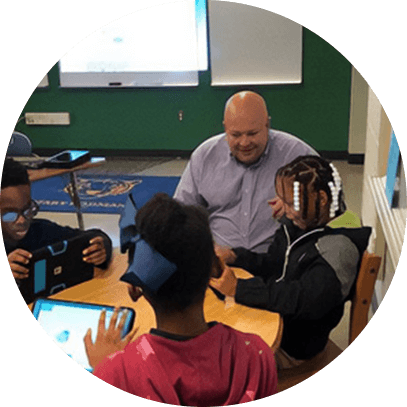 THURGOOD MARSHALL COLLEGE FUND
We started supporting this fund in 2020 with the goal of transforming the lives of students at historically black colleges and universities.
INTERNSHIP PROGRAM WITH UMBC, MORGAN STATE, AND JOHNS HOPKINS
More than 60 Baltimore students participated in year-round internships at Index Analytics — with four graduates becoming full-time employees!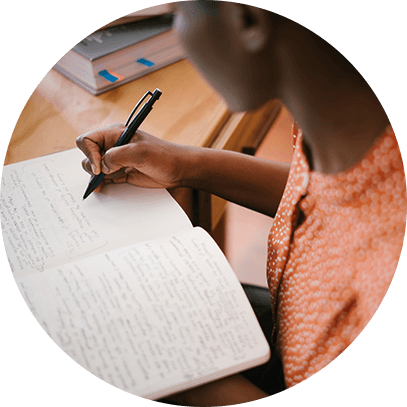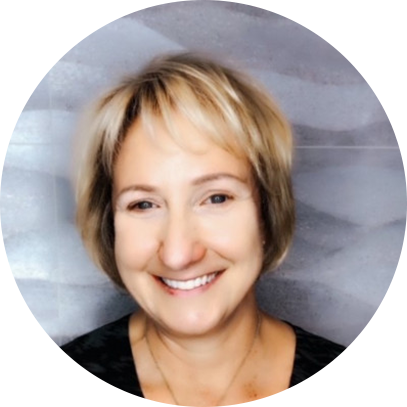 Allyn is putting philanthropy first
We're serious about paying it forward in Baltimore. That's why we've appointed Allyn Finegold as our new Director of Philanthropy.
Spurred by a passion for community service, Allyn leads our educational funding initiatives for Baltimore-area schools — architecting scholarship support programs and ways for Indexers to help local students.
Allyn's work is hands-on. She coordinates enthusiastic Index volunteers to provide mentoring and other services supporting the community. And she manages philanthropic partnerships with other Index beneficiaries, including the Maryland Food Bank and the Thurgood Marshall College Fund, to create community-wide impact.
What's next? Allyn is working to grow Index's philanthropy efforts beyond the Baltimore area, identifying new giving opportunities. Soon, we'll be able to support schools and communities across the country — building a network of support wherever Index employees live.
---
"It's important for me to work on projects that are personally and professionally fulfilling, and at Index, I've had the chance to do that — especially in my current role managing projects that support the response to the COVID-19 pandemic."
WHAT MAKES AN INDEXER?
Philanthropy is just part of the passion that drives the people at Index. Come see what makes our people tick.